Pink Limo Hire In Bury, Lancashire
Our colourful pink limos for hire in Bury are a sure way of adding some extra fizz to a hen night, prom, birthday party or girls' night on the town! Pink limos have becoming increasingly popular thanks to reality TV stars such as Chantelle Houghton, who is one of many celebrities that have been spotted travelling in or stepping out of one of these brightly coloured chauffeur cars. We have two modern limousines in pink, both ready to transport you and your party to town for a fun night!
| | |
| --- | --- |
| The classic Lincoln Town Car has seating for upto 8 people per journey. More details > | |
| The Ford Expedition is longer than the Town Car, with 14 seats fitted. Both include the best passenger features available! More details > | |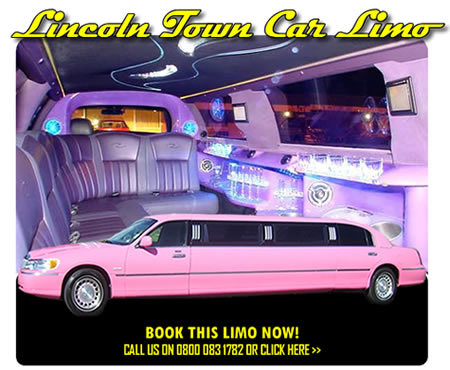 Lincoln Town Car Limousine In Pink
While our Lincoln Town Car is smaller than the Ford 4x4 you can enjoy all of the same style of onboard features as its larger sister! Includes:
TV and DVD player!
Funky bar area with glasses/champagne flutes for all guests!
J shape leather seating formation. Super comfortable design!
Multicoloured lighting (disco lights / fibre optics)!
Call us on 0800 083 1782 to enquire about our pink limos or use the enquiry form! Top of page >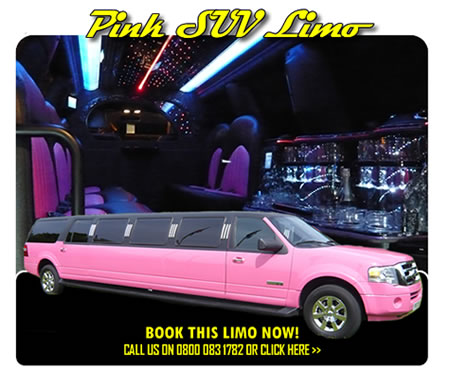 Ford Expedition 'Pink Hummer Limo' 4x4
Northwest Executive are known for having the best choice of limos for hire in Bury and Lancashire, and our pink Hummer limo style Ford is one of the jewels in the crown! Our super stretched pink limo caters for larger parties (maximum 14 guests per journey) and, per passenger, can work out as a very affordable and luxurious way to travel for a hen night, school prom, girls' birthday party or night on the town! Onboard facilities include:
Air conditioning
3 TV units and DVD player!
Unrivalled music system with awesome speakers - bring your favourite CD or DVD along for the ride!
Disco lights and fibre optic multicoloured lighting to give you a nightclub feeling!
Leather seating and seatbelts for all passengers!
Of course, every booking also includes a smart, professional chauffeur and reliable service.
Both limousines are maintained to the highest standards and both are legal and insured for hire. Don't compromise, make sure you hire with us! Get a great rate for hire by using the pink limo enquiry form or call the bookings office on FREEPHONE 0800 083 1782 (or call our local number 01204 522 422). Top of page >