Bury Limos For Hire
Modern Stretched Limousines For Upto 16 Passengers!
Discover our fabulous choice of modern, clean stretched limousines and, after you've picked a favourite, use the Bury limo hire enquiry form to find out just how affordable hiring a limo can be! Don't forget that we are very flexible to your travel requirements and packages range from a simple 1 hour cruise around town all the through to a full day's hire for a hen night or stag night! Use the online enquiry form or call our FREEPHONE number 0800 083 1782 and we'll be happy to help!
One of the most colourful, stylish limos for hire anywhere in the UK. Includes a charcoal and neon blue interior with Bentley limo style design. More details >

Super stretched to accommodate 14 passengers, this Jeep limo style Ford has it all! More details >

Lincoln's Town Car limousine is the classic style of stretched limo. Our particular design comes from one of America's best coachbuilders.

More details >

Our Hummer limo style 4x4s are available in a choice of colours. This example is a funky Ford Expedition.

More details >

This Lincoln Navigator is licensed for upto 14 passengers per journey.

More details >

Another modern 14 seater limo with no shortage of chrome and American SUV styling!

More details >

A silver Lincoln Navigator with some of the best passenger entertainment and comfort features in any limo!

More details >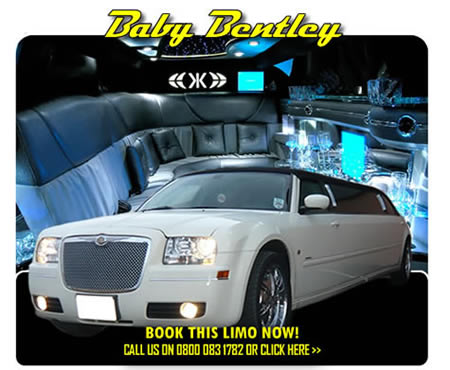 Chrysler 300 Series In White (Baby Bentley)
The Chrysler 300 Series enjoys the nickname 'Baby Bentley' and, with its distinctive grille, large alloy wheels and Rolls Royce style body its easy to see why! Our Chrysler has been fitted with the best features available and imported exclusively to us from the USA. The car includes:
Neon blue interior disco lights!
3x TV units and DVD player!
Charcoal tinted leather seats and cushions!
Stunning bar area with champagne flutes for all passengers (plus ice bucket)!
The best in passenger amenities including climate control, tinted windows, carpets, full audio/visual entertainment systems!
Our Chrysler 300 is one of the most asked for limousines in our fleet so book early to avoid disappointment! Top of page >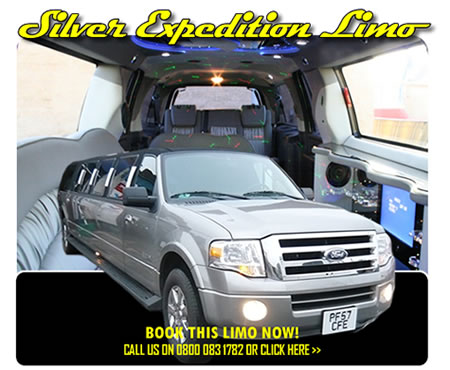 Silver Ford Expedition 4x4 Limo
Here is a super stretched limo for hire in Bury that carries that extra 'wow' factor! This four wheel drive 'SUV' limo is fully licensed to carry a maximum of 14 passengers. Climb aboard for a great party! You'll enjoy:
A superb sound system with top of the range speakers thoughout the passenger compartment.
4 flatscreen TV units plus a DVD player - bring a film or music DVD to watch on the way!
Passenger controlled air conditioning - build up a sweat on the dancefloor, cool off with us!!
Attractive bar area with clean set of drinking glasses ready for the bubbly!
Privacy divider, carpets and tinted windows!
Strobe lighting system for a party atmosphere on the road!
Perfect for stag nights, hen nights or an airport ride with your friends! Top of page >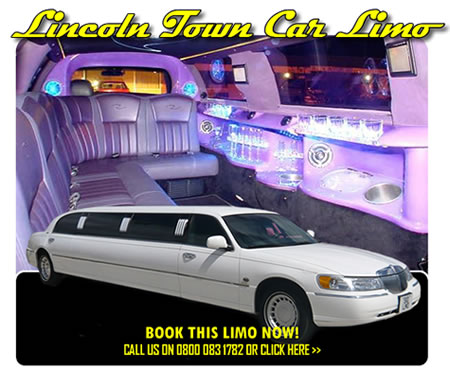 White Lincoln Town Car (8 Seater)
A versatile limousine in the traditional style of stretched limo. Suitable for a wide range of assignments including weddings, civil partnership ceremonies, airport transfers and even business events. While the 8 seater Lincolns are shorter than our super stretched 4x4s and Hummers there are just many features onboard! Includes TV units, DVD player, CD stereo and speaker system, VIP bar area, disco lights, mirrored ceiling, tinted windows and privacy divider! Top of page >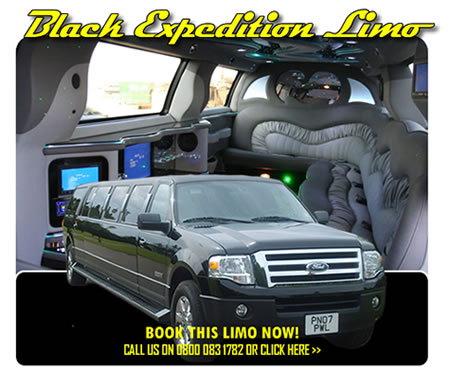 Ford 4x4 Limo (Black)
Next up in our limo showroom we have this 14 seater Ford Expedition in a cool black livery. Our Ford 4x4s are similar in design to the popular Hummer limos and are equipped with just as many features! Sit back in unrivalled luxury, put your favourite tunes on the excellent stereo and pop open the bubbly! You'll be certain to heads as you arrive at your chosen venue! Great for cruising in and around Bury or travelling into Manchester city centre! Click any of the larger limo images to go to the Bury limo hire enquiry form or call us on FREEPHONE 0800 083 1782 for more information! Top of page >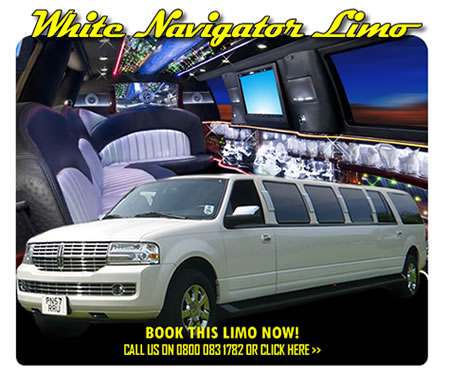 White Lincoln Navigator SUV Limo
Our Bury limo hire fleet also incorporates two style of Lincoln Navigator limousine. Lincoln is one of America's most prestigious vehicle manufacturers and can be compared with Jaguar in terms of design and luxury. An eye catching limousine with all of the features you'd expect from a limo of this calibre. Includes full audio/visual entertainment system, comfortable leather seats, disco and fibre optic lights, bar area, tinted windows and, as with all of our bookings, a smart chauffeur! Top of page >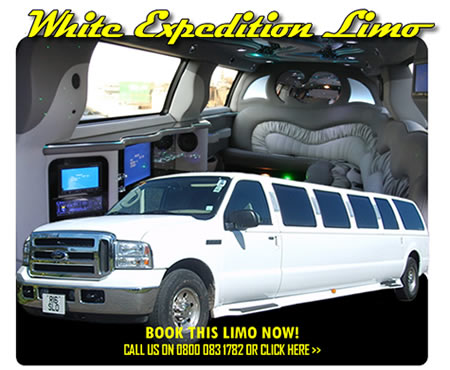 Ford 4x4 Limo In White
All of our 4x4 limos have been delivered to us direct from the United States. We have worked closely with VOSA on passenger safety regulations and our 4x4 and Hummer limos are leading the way! Our white Ford limousine packs a punch in more ways than one, and includes full audio visual entertainment systems (TV, CD, DVD player), disco lights, mirror ceiling, tinted windows, comfortable leather seating and bar area! Top of page >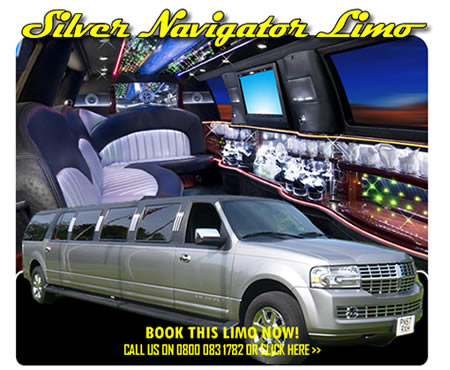 Silver Lincoln Navigator
Our silver Lincoln Navigator is another recent addition to our fleet and comes from the best limousine builders in the USA. Onboard features list includes:
Superb audio system with speakers and CD stereo
LCD TVs
DVD player
Air conditioning
Lighting systems for nightclub atmosphere!
Clean set of glasses / tumblers for use by all passengers
Leather seating
Clean carpets
For details on any of our limos for hire in Bury simply complete the enquiry form or call our bookings office on FREEPHONE 0800 083 1782. For school proms, stag nights, hen nights, airport transfers, birthdays, corporate events, exhibitions and special occasions make us your first choice for Bury limo hire! Top of page >